As businesses grow, the need for efficient customer service becomes increasingly important. Customer satisfaction is a crucial component of business success, and a poorly run call center can damage a company's reputation. Call center outsourcing is a solution that can help businesses meet customer needs while also saving time and money.
Here are some of the ways professional call center outsourcing can boost business growth:
Increased Efficiency: Call center outsourcing allows businesses to focus on their core competencies while outsourcing non-core functions to a specialized provider. Professional call centers have streamlined processes and the latest technology, resulting in faster response times, improved customer service, and increased efficiency.
Scalability: One of the most significant advantages of call center outsourcing is scalability. When businesses experience a sudden surge in call volume or need additional customer service support during peak seasons, a professional call center can quickly ramp up resources to meet the demand.
Cost Savings: Outsourcing call center services can be more cost-effective than managing an in-house call center. Outsourced providers typically have lower overhead costs, and businesses can save money on hiring and training costs, as well as technology investments.
Access to Specialized Talent: Professional call center outsourcing providers have highly skilled and trained agents who specialize in customer service. They have experience in handling a range of customer inquiries and are trained to provide exceptional service that can help businesses build customer loyalty and increase sales.
Improved Customer Satisfaction: A well-run call center can significantly impact customer satisfaction, leading to increased customer loyalty and repeat business. Professional call center outsourcing providers can offer 24/7 support, multichannel support options, and personalized customer experiences that can help businesses stand out in a crowded market.
Call center outsourcing can provide businesses with a range of benefits that can contribute to long-term growth and success. By partnering with a professional call center provider, businesses can streamline their operations, reduce costs, access specialized talent, and improve customer satisfaction. With these benefits, call center outsourcing is an essential consideration for businesses looking to grow and succeed in today's competitive market.
Also Read: What are the best tool for content distribution and Grow Conversion Rate?
While a company's website should be designed to reflect its brand, there are some commonalities that all good websites share. Here are three international conference website design ideas to keep in mind when working on your site:

1. Use negative space

Negative space, also known as "white space," is the space on a page. It's the area between the text, images, and other elements on a page.

While it may seem counterintuitive, using negative space is a good thing. It can help to create a feeling of spaciousness and calmness, making it easier for visitors to focus on the content.

2. Keep the design clean and simple

When it comes to website design, less is often more. A clean and simple design will be easy for visitors to navigate and will make your content easier to read.

3. Use high-quality visuals
High-quality visuals, including images, illustrations, and videos, can help to make your website more engaging and visually appealing.

When choosing visuals, be sure to use those that are high-resolution and relevant to your content. Adding visuals can also help to break up text and make your website more visually interesting.

By following these three international conference website design ideas, you can create a website that is both visually appealing and easy to use.
Your international conference agency website is a digital business card, and as such, it should be designed with care. If you're in charge of designing or re-designing your agency website, here are a few international conference website design examples worth checking out for inspiration.
Example-1
AllconferenceAlert.com (Highly Recommended Website for International Conference)
The website allconferencealert is an international conference website that is built with custom PHP. This website aims to help people find and attend conferences all around the world. The website is free to use, and anyone can search for conferences by keyword, location, or date. Alconferencealert also allows users to create and share their own conferences.
The website has been a great help to me in finding and attending conferences. I have found that the website is very user-friendly, and the design is simple and clean. The website is also updated regularly, so I always know about the latest conferences. Overall, I highly recommend this website to anyone who is interested in finding and attending conferences.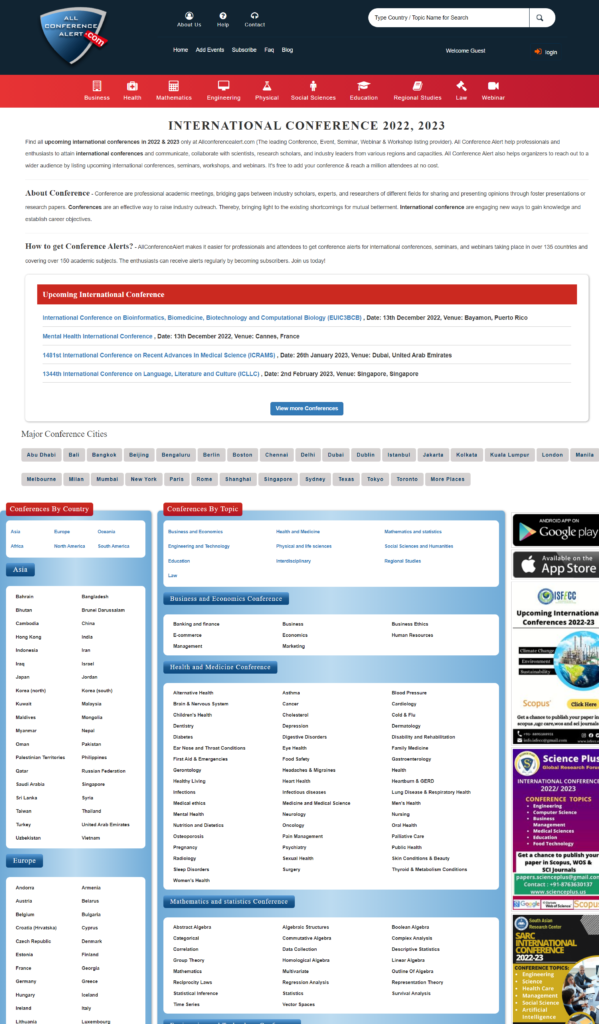 Example-2
ConferenceAlert.com – The Second Leading Conference List Provider
The website is also a great resource for finding conferences and events to attend. The site is built with Custom Php, which makes it easy to use and navigate. ConferenceAlert.com is a great way to stay up-to-date on the latest conferences and events happening around the world.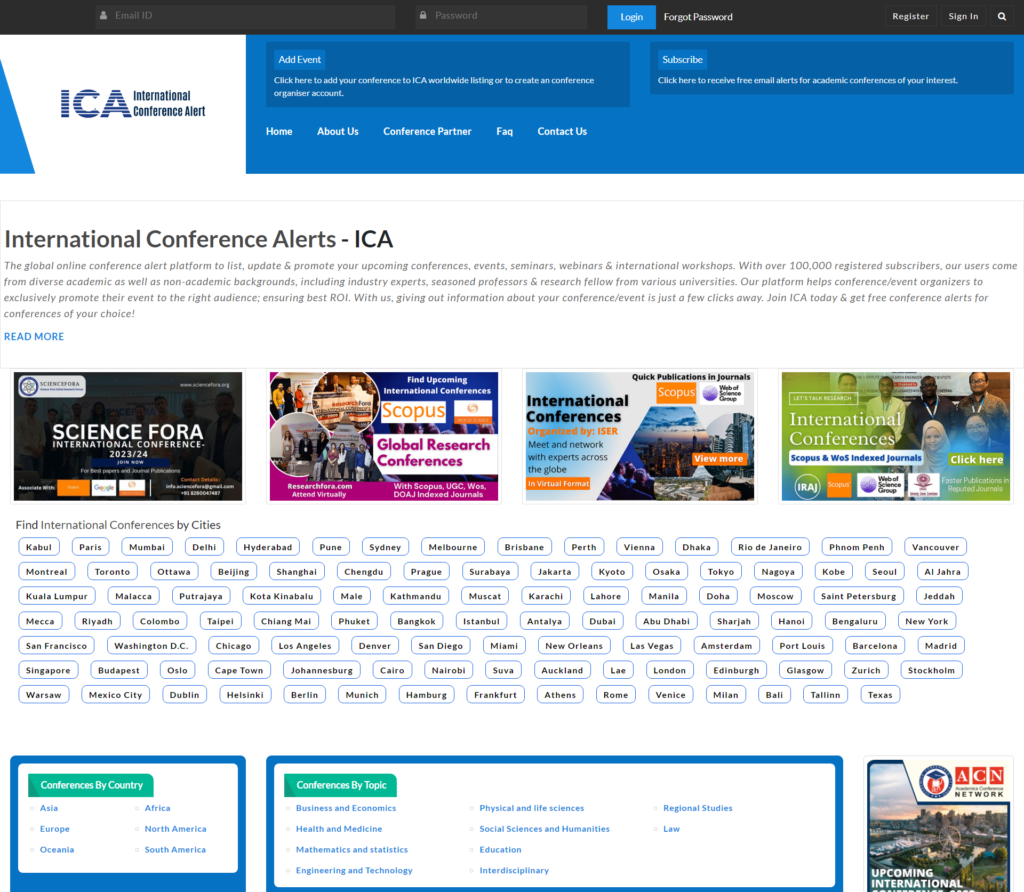 Example-3
While the website itself is not the focus of this article, it is important to note that the conference website is built using Java EE. For those who are not familiar, Java EE is a platform for enterprise applications. It provides a set of services and APIs that allow developers to create, deploy, and run applications on a variety of devices.
Java EE is a popular choice for developing conference websites, as it offers a number of features that are well-suited to this type of application. For example, Java EE offers a robust security model that can be used to protect sensitive data. Additionally, Java EE provides a wide range of APIs that can be used to develop a variety of conference-related features.
In short, the choice of Java EE for the gartner.com conference website was a wise one. Java EE provides a solid foundation upon which to build a high-quality conference website.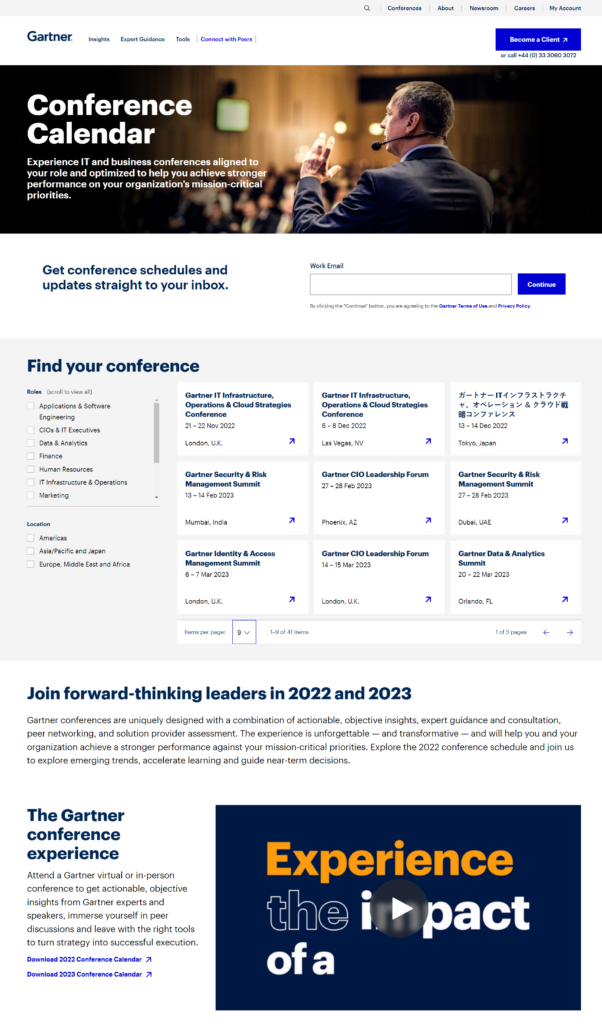 When it comes to hosting a conference website, there are a few things you'll want to take into consideration. One of the most important factors is choosing the right technology. Not all technologies are created equal and some are better suited for hosting a conference website than others.
Contact us if you like to get a unique & secure International conference website for your organization. Reach ([email protected]).
Read: Growth Hack for Business Websites to Drive Massive Online Traffic (Best 14 tips)
 Nowadays, People are not interested in dull, repetitive products. They want something new and exciting. Your products must have a unique selling proposition that will catch the customers' attention.
To get success in e-business, you need to rethink what it means to "sell" in your store. Because everybody does business this way today, it has become a well-established habit. Providing people something different is a way of attracting their attention. Because of product customization, the gifting and lifestyle industry is becoming more popular.
Adding customization options to products has helped many big brands see a boost in sales after making their products more tailored to particular consumers.
Considering the studies from Bain, out of 1,000 online shoppers less than 10% have tried customization while 25% to 30% are interested in trying customizing the products. You can imagine the type of potential this industry has.
Big brands like Amazon and Coke have found ways to profit off of customized products. In their own words, here are the four rules that helped them succeed.
Rule 1: A Clear Idea About Your Offerings
Customization makes customers invested in your product because they were involved in the process of creating it. The customers are more likely to feel a sense of ownership toward the brands they have purchased from. In this way, you are making it easier for them to have the experience they want. Your competitors can't replicate anything that is exclusive to your products.
You will be influencing your brand image by customizing. To make it more impactful, you'll need to develop a clear idea about the best way is to provide your customization offerings.
Rule 2: Think about how much customization do you need to offer?
The companies or brands that provide product customization have 10–15 core products and around 100–150 ways to customize the products. After some period of time, the customer will lose interest in the products. And that wouldn't be because you offered only 100 ways to customize the product, but because there were only a few products.
So, while scaling your customization shop, make sure you are growing not only in the horizontal direction but in the vertical direction also. We want to say that don't focus only on offering personalization, but keep an eye out for product development and adding new ones too.
Your product list should keep up with the times. When the times change and your customers want something new, you should be able to give it to them.
Rule 3: Keep the Overall Experience Simple for Users
"Simplicity of Approach is always best." — Charlie Chaplin.
When you have to offer customization, you will have to be very careful. It's always possible that you overdo things, so it's important to make sure that you don't. Your customers need to understand how your product can solve their problems. Don't make it too complicated, keep language simple and short.
If your e-store doesn't have good aesthetics and is hard to navigate, customers will have a much harder time on your website. This will cause a negative effect on their mind, making it hard to develop a positive view of your brand.
So, make sure you are keeping it real and simple.
Rule 4: Make the Customer Experience a Priority
Last rule: make sure your website along with your product designer tool creates a full-rounded experience for your visitors. Make it a priority.
When we talk about customer experience, we are talking about every way that a customer interacts with your organization that's also your website.
Conclusion:
These 4 rules will enhance the overall quality of your e-store and should be applied in order to improve your online store.
Due to COVID-19 people are stuck with home & online engagement increased for the past 2 years. When people have no option to visit outside they are browsing websites to learn or to entertain. Here we have listed the most viewed & popular websites on the internet during the lockdown.
Youtube: Entertainment & Learning Website. It should come as no surprise that YouTube.com is the most visited site in the world. While intelligent people are engaged with learning & information videos, others' are enjoying funny videos, memes, roasted, expose and prank videos. YouTube got 8.564 billion visitors monthly. More than thousands of YouTubers come on to charge and placed new videos daily. Many as inspired and join as YouTubers during the lockdown.
Wikipedia: As we know WIKI is one of the sources of information on the World Wide Web, wiki got 223 billion visitors monthly. The vast majority of Wikipedia's traffic comes from Google organic search. The site is frequently the first, second, or third hit on Google search results for popular topics ranging from people and places to events and more. Many still shy away from calling it 100 percent reliable, but it's clear that people trust and like Wikipedia. As the site grows in popularity, its credibility will only grow as well.
Facebook: People are engaging themselves with social media posts to communicate with family, colleagues & friends. During the lockdown, facebook got the number of traffic on its website. According to a report, Facebook reaches 16,474,012 unique users each day.
Instagram: After reels introduced by Instagram, users are from TikTok and other musically subscribers (mostly young age people) are using Insta on a regular basis. They are spending lots of time covering lockdown from the home. It reaches 3,934,598 unique users each day.
Twitter: Twitter is a giant social media platform and it has created its own place on the internet. Twitter, is the fourth most famous site in the world and the third most viewed site in the United States. The site has reached 2,467,234 unique users each day.
Reddit: Reddit is a website that is essentially a forum for internet users to discuss anything in their minds. To give you a thought of how extensive Reddit is as a website, It reaches 12,008,507 unique users each day that generates 53,332,674 daily page views & 1.7 billion comments.
Pinterest: One of the most popular websites in the world and more than 200 billion pins are created daily in the term of share & like. Pinterest reaches 1,324,262 unique users each day that generates 7,491,421 daily page views.
Amazon: While people don't go outside they fulfill their requirements from online shopping sites. Amazon is one of the top listed shopping websites that got a huge amount of traffic dusting lockdown. A report said Amazon reaches 8,998,927 unique users each day.
Netflix: During lockdown people enjoying streaming videos. As Netflix started web series users are increased drastically. Netflix earn 15,369,486 unique users each day.
MSN: According to the site growth report MSN reaches 6,240,683 unique users each day that generates 17,568,644 daily page views. MSN is one of the top fifteen most visited websites in the world.
The rest below are the lists of most common websites viewed in lockdown
Conference Site: Due to lockdown all countries are sealed. Academic people are not able to attain conferences & publish their papers. So they join Webinars to communicate and collaborate with scientists, research scholars, and industry leaders.
News websites: Nytimes, CNN & many more
Music Sites: Spotify, Gaana & Others
Public forum: Quora, Stack Overflow & others