Don't use Google Business Profile Email to sign in ads.google.com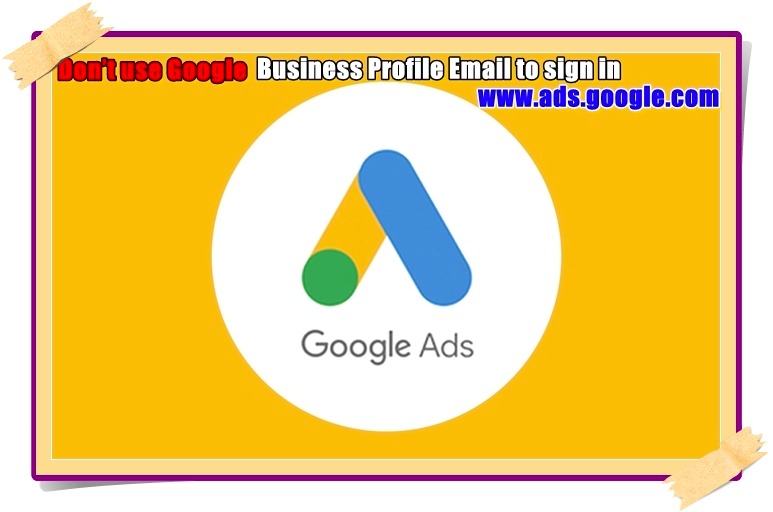 While creating Google Ads don't use Google business profile emails. In this topic, I am sharing my personal experience that I faced today, August 24, 2022.

Before explain further, you must know the difference between Google Business Profile Ads and Google Ads.
Google Business Profile Ads vs. Google Ads
When it comes to online advertising, there are two main platforms that businesses use: Google Business Profile Ads and Google Ads.
While both have their own distinct benefits, which one is the better choice for your business? Let's take a closer look at each platform to see which one comes out on top.
Ads for Google Business Profiles:
Google Business Profile Ads are a great way to promote your business to potential customers who are already searching for businesses like yours. When someone searches for a business like yours on Google, your business profile ad will appear at the top of the search results, giving you a prime opportunity to reach your target audience.
The advantage of Google Business Profile Ads is that they're relatively affordable, especially when compared to Google Ads. You can set a daily budget for your ad, and you'll only pay when someone clicks on your ad, which means you won't have to worry about overspending.
Disadvantage: As Google creates automatic ads, you don't have the option to create your own ads or target them. Everything was predetermined by Google. You cannot optimize for your need.
Google Ads:
Google Ads are a more traditional form of online advertising, where businesses pay to have their ads appear on Google's search results pages. Unlike Google Business Profile Ads, which appear only when someone searches for a business like yours, Google Ads can appear for any search that is related to your target audience.
Google Ads can be a great way to reach potential customers, but there are also some disadvantages to using them.
The advantages of Google Ads include the fact that they can be targeted to specific audiences; they can be customized to meet the needs of the advertiser, and they don't require a long-term commitment.
The disadvantages of Google Ads include the fact that they can be expensive, time-consuming to set up and manage, and they can be intrusive to users. When deciding whether or not to use Google Ads, it's important to weigh the pros and cons to see if it's the right fit for your business.
Why won't you use your Google business profile email to sign up for Google ads?
If you're already signed in to Google Business Profile email and would like to run Google ads, then you'll not get an option to sign in directly to ads.google.com.
I hope this is a technical glitch or UI issue from Google Company. When you hit the sign-in or get started button, it will redirect you to Google My Business Profile. If you create ads here, remember that it's not Google Ads. This one is called "Google My Business Profile Ads".
How to create Google Ads if you already have a Google My Business profile on the same email ID?
You must create Google My Business profile ads and then go to Manage Ads settings. Now choose Advanced. You can view and compare Google Advertising Options. Now select a smart campaign. It will create another Google Ads account for you. Now you have to set up your new billing account and create Google Ads. This is not all set. If you like to use the expert mode, you need to choose the following settings: Go to the settings from the top navigation bar and select Switch to Export Mode. Now you are all set to go.
Conclusion:
You must not use the Google My Business Profile email to sign in to Google Ads.
You will lose time and money if you're an expert to run ads.
How do cancel Google My Business Profile Ads?
There is no way to manage or cancel ads from Google My Business Profile.
You need to contact Google support to cancel your ad account.
Is Google Ads support good today?
No, now (2022) these days, Google's ad support team is not working well. They are disconnecting chats and phone calls without any conclusion to your case.
I shared this content to inform new Google Ads users to learn from my experience. Maybe you're not in that place. But it can happen to you at any time.
Google Account Creation
Google Ada Expert Mode
Google Ads for Business Profile
Google Business Profile Ads vs. Google Ads