A leading software development company that provides top-notch solutions for businesses of all sizes. Today, we want to introduce you to our custom T-shirt website software that allows you to create your own design T-shirts. With this software, you can easily launch your own custom T-shirt printing business and take it to the next level. Our custom T-shirt website software is designed to help you build a user-friendly online store that your customers will love. It comes with a range of features that will enable you to create a unique and personalized shopping experience for your customers. Some of the features include:
Easy-to-use design tool: Our software comes with an intuitive design tool that allows your customers to create their own T-shirt designs. With this tool, they can upload their own images, add text, and choose from a range of design elements to create a T-shirt design that truly represents them.
Wide range of customization options: Our software offers a wide range of customization options, including different T-shirt styles, colors, and sizes. This means that your customers can create T-shirts that are tailored to their specific needs.
Seamless payment integration: Our software integrates with popular payment gateways like PayPal, Stripe, and Authorize.net, allowing your customers to make secure online payments.
Mobile-responsive design: Our software is designed to be mobile-responsive, meaning that your online store will look great on any device, whether it's a desktop, tablet, or mobile phone.
All these features are aimed at providing the best user experience for your customers, which will result in increased sales and repeat business.
How does our custom T-shirt website software work?
It's simple. Once you sign up for our software, you will receive access to our easy-to-use admin panel. From there, you can customize your online store and add your T-shirt designs. You can also manage your orders, track your inventory, and generate sales reports.
Our software is fully customizable, meaning that you can add your own branding, create custom pages, and even integrate with third-party services like email marketing and social media platforms.
If you're looking to start a custom T-shirt printing business or you're looking to take your existing business to the next level, our custom T-shirt website software is the solution you need. With our software, you can easily create a user-friendly online store that will help you attract more customers and increase your sales. Sign up for our software today and start creating your own design T-shirts!
T-shirt design software is one of the most essential resources a print shop businesses, who are always seeking methods to simplify their operations, lower expenses, and provide their customers with high-quality products.
A t-shirt design software is an online tool that allows customers to design and customize their own t-shirts, hoodies, and other apparel items. This software is integrated with the print shop's website, allowing customers to easily design their own apparel items, place orders, and make payments, all from the comfort of their own homes.
There are a few different types of software that print shops use to design shirts, including online design tools, vector design software, and raster design software. Each type of software has its own advantages and disadvantages, so it's important to choose the right type of software for your business.
One of the advantages of online design tools is that they're usually very easy to use. They don't require any special training or knowledge, so anyone can use them. Online design tools are usually very affordable, so they're a great option for businesses on a budget. However, one of the disadvantages of online design tools is that they often have limited features and functionality. The designs created with online design tools are often not as high-quality as those created with vector or raster design software.
Pmsltech product design software is a good option for businesses that want to create designs with a lot of detail. Pmsltech design software provides a wide range of features and tools that allow businesses & users to create their own designs in a few minutes.
Here are some of the benefits of using t-shirt design software for print shops.
Increased Revenue:
One of the main benefits of using t-shirt design software is increased revenue. By allowing customers to design and customize their own t-shirts, hoodies, and other apparel items, print shops can attract a larger customer base, increase sales, and generate more revenue.
Reduced Costs:
With t-shirt design software, print shops can reduce their costs by automating the design and ordering process. This means that print shops can reduce their labor costs, reduce errors, and increase efficiency, leading to cost savings that can be passed on to customers.
Improved Customer Experience:
By allowing customers to design and customize their own apparel items, print shops can provide a better customer experience. Customers will appreciate the ability to design their own t-shirts and will be more likely to return to the print shop for future orders.
Better Quality Products:
A t-shirt design software can help print shops produce better quality products by allowing customers to upload their own designs, logos, and graphics. This means that print shops can offer a wider range of design options and produce higher-quality products that meet the exact specifications of their customers.
Faster Turnaround Times:
By automating the design and ordering process, print shops can offer faster turnaround times for their customers. This means that customers can receive their customized apparel items faster, which can lead to higher customer satisfaction and repeat business.
Greater Flexibility:
With t-shirt design software, print shops can offer greater flexibility to their customers. Customers can choose from a wide range of apparel items, colors, and design options, giving them the freedom to create exactly what they want.
Increased Brand Visibility:
By allowing customers to design and customize their own apparel items, print shops can increase their brand visibility. Customers will wear their customized t-shirts and hoodies in public, providing free advertising for the print shop.
Also Read: T-Shirt Designing Softwares and Unseen Features
Easy to Use:
A t-shirt design software is easy to use and requires no special skills or knowledge. Customers can easily design their own t-shirts, hoodies, and other apparel items using a simple drag-and-drop interface.
Cost-Effective Marketing:
A t-shirt design software can be a cost-effective marketing tool for print shops. By offering customers the ability to design and customize their own apparel items, print shops can attract new customers, generate more revenue, and increase their brand visibility, all without spending a lot of money on marketing.
Competitive Advantage:
T-shirt design software can give print shops a competitive advantage. By offering customers a unique and customizable experience, print shops can differentiate themselves from their competitors and attract a larger customer base.
Conclusion:
A t-shirt design software is an essential tool for any print shop that wants to stay competitive in today's digital age. By offering customers the ability to design and customize their own apparel items, print shops can increase revenue, reduce costs, provide a better customer experience, produce better quality products, offer faster turnaround times, increase flexibility, increase brand visibility, and increase customer demand & sales.
Pmsltech's software for designing t-shirts for your web-based stores is among the top tools to incorporate into your online store. Not only does it permit your customers to design their own shirts, but can also provide you with a way to boost sales and profits.
Here are a few points to look at when choosing the most suitable software for your website. Features, cost, and user-friendliness are just a couple of the most important aspects to think about.
T-shirt design software features:
When you use our t-shirt designer software, then you'll be able to pick from a wide range of fonts, colors, and sizes to design the perfect shirt for your needs. You can add images or text to your shirt to make it unique.
Real-time product visualization
Print-ready vector output
Templates ready to use Vector clipart, templates, & fonts
Easy & Powerful Admin Panel
Available on Lifetime License
Instant implementation & configuration on the server
Configurable decoration processes for DTG/Screen/Sublimation/Embroidery printing and custom pricing
Include to any Shop Add to any Shop Magento, Shopify, Opencart, WordPress & More
Real-time product visualization
A key aspect that businesses today have is the ability to visualize the product in real time. This live product visualization helps businesses to make informed decisions regarding what they should purchase and how to showcase it. Live product visualization allows businesses to gain insight into the customer's viewpoint so that they can modify the product prior to it being sold.
Print-ready vector output
Our software is excellent for designing t-shirts. it can also be useful for vectorizing artwork. This means that you can take a low-resolution image or even a sketch drawn by hand and transform it into a clean, high-resolution vector graphic. This is a great option when you need to create images for print or for web usage.
Templates that are ready to use vector clipart designs and fonts
Lack of creativity is often seen as a hindrance to success. But, as our t-shirt design software demonstrates, a lack of imagination doesn't have to be a barrier. With our simple-to-use tools, even the most unartistic person can design breathtaking designs.
Easy & Powerful Admin Panel
It is essential to have an effective and simple-to-navigate admin panel for managing T-shirt designs.
There are numerous benefits to having a robust admin panel for t-shirt design. Perhaps the most important benefit is the ability to effortlessly and efficiently manage t-shirt designs. With a robust admin panel, you'll reduce time and cost by making it easier to manage your t-shirt designs.
A robust administrator panel can assist businesses to keep track of their inventory of tee- shirts and make sure that they always have the latest designs available. With a solid admin panel, companies can easily apply their logos or colors as well as fonts and colors to t-shirt designs. Businesses can create exclusive and distinctive t-shirts which will make them stand out from the competition.
How our t-shirt design software could assist in saving time as well as money.
At Pmsltech we know the importance of time. This is why we've developed our software for designing t-shirts to be as efficient as it can. Our program allows you to create professional-looking designs in less than the time it would take to create them by hand. You'll not only save time, however, but you'll also save cash on printing costs. In the current world of speed and a crowded schedule, time is more valuable than ever. This is why our software is so valuable. With it, you'll be able to enhance your productivity and make the most of your time. If you're looking to reduce time and money the t-shirt design program is the perfect solution for you.
The benefits of using t-shirt Design software.
When you are trying to create the perfect t-shirt design there is a lot to consider. Color scheme, the graphic, the font – it all needs to be incorporated to create a design that is both visually appealing as well as conveys the correct message.
There are numerous factors to think about but one of the most important is the program you use to make your design. While there are a number of design software applications out there, not all of them are all created equal. Certain are more friendly than others, others are more advanced and some are more intuitive. But when it comes to choosing the perfect design software for t-shirts there are just two aspects to think about – accessibility and versatility.
Ease of use is important as you'll want to be able to create your design with as much frustration as possible. The most important thing is not being fought with your software instead of focussing on the design. And flexibility is important as you'll want to be able to create a design that is unique to your business and you. So, which is the most effective t-shirt design software? It's all about your preferences and needs.
T-shirt design software is a simple option to create custom tees. There are numerous benefits to the use of software for designing t-shirts.
You can easily design personalized t-shirts.
By making custom t-shirts for your customers, your customer can add their own text, images as well as designs. This lets you create unique shirts that are distinct.
Anyone is able to use t-shirt designing software to create gifts for friends and family. With t-shirt design software, the possibilities are endless.
Print ready download form for admin
It is easy to manage inventory and more
Conclusion:
Is it a good idea to offer the possibility of designing custom shirts on your website?
If you're looking to launch or expand your t-shirt business one of the most important things you can do is provide a custom-designed t-shirt design program on your site. This allows your customers to create their own shirts, which will lead to more sales and happier customers. Alongside the increase in profits and satisfaction of the customers, There are additional benefits to offering custom-designed t-shirt software on your website. For instance, it could help you stand apart from your competitors to attract new customers and boost your brand awareness.
Also Read:
6 essential tools for print shop business
Best Self-Hosted Product Designer Tool for Printshop Website 2023
Why Do You Need Product Design Software for Your Website?
Custom Product Designer Tool Review & Product Detail
Design Your Own T-Shirts on Your Website: A Guide to T-Shirt Design Software Services.
Shopping in itself is a dynamic phenomenon – there's a new experience to be had each time. It's changing on a daily basis with the advancement of technology. As an example, people didn't use to shop as much in the old days. They would just choose their favorite piece of clothing from the collection available at shops. Whereas today, the picture is totally opposite. Today there's less focus on what people need and more focus on expressing yourself. People that like to wear t-shirts, hoodies, etc., enjoy getting new ones. They want designs from the most popular movies, TV shows, and brands. Customers love to wear clothing that represents their individuality and makes a statement about who they are. Customers love to display their ideas and lifestyle through the products they buy.
All this is now possible with the right T-shirt Design software. If you like to add it to your store find it here T-shirt Design software.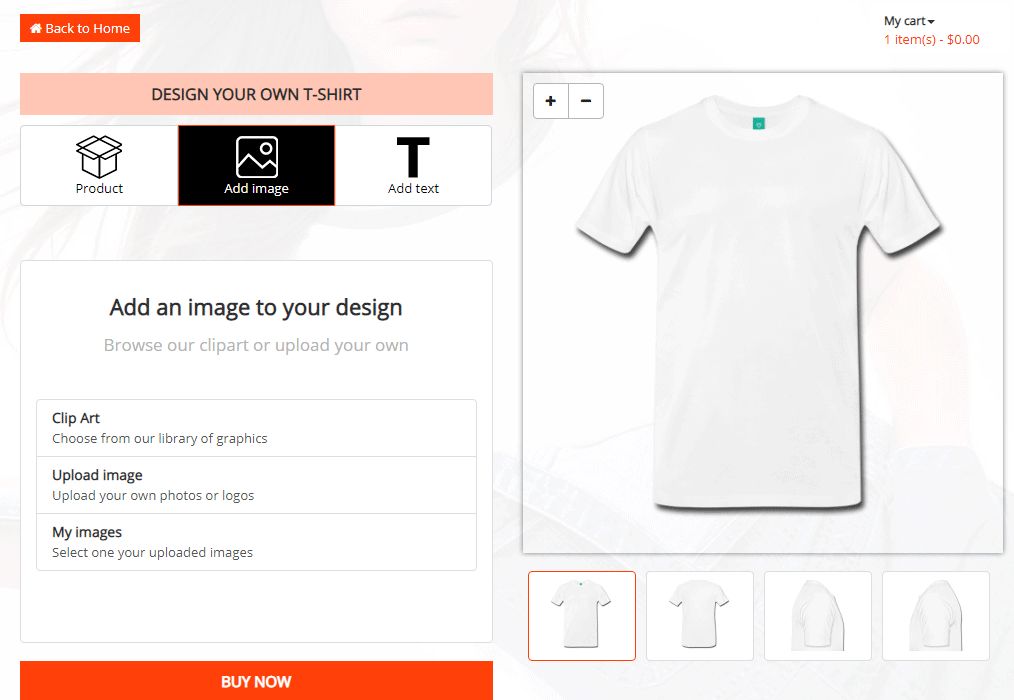 People love to be up to date, and they believe it's more likely that other people will notice them when they're up to date. Sometimes, we come across companies that are selling personalized t-shirts based on the events they host. The same way many lovers of web series or movies style their favorite quotes or images on their t-shirts. Behind the scenes, it's all magic created through t-shirt designer software.
Here are some of the aspects that you should consider before getting into the T-shirt Personalization business.
Freedom for Customers
If you are able to personalize a product, then the customer will feel less restricted when designing that product. Customers feel a sense of liberation when they can create their own designs. From selecting the design area, creating color combinations, adding images, to sharing them on their social media with their friends. The personalized industry has become customer-centric. You have to choose which eCommerce platform you want to use which will be right for your business and You have to use the right software to be able to design t-shirts that will be appreciated by your customers.
Right Strategy
If you just create an online presence and then do nothing, it's unlikely to bring you significant traffic and additional sales. To attain your company's goals, you need to create plans that are likely to succeed. Digital marketing will give your store an online presence and a broader reach. The more you spread your services, the more right customers there will be and the more you can make. If you don't have the right business strategy, personalization can fail. A web-to-print solution could help you expand your customer base and grow your business.
Configurations
While your products can leverage the freedom of providing comprehensive product customizations, it is important that the overall customer experience is up to the mark. And, if you put the right configurations into your products, you can make sure they are as profitable as possible. You can set design areas to the products you sell in your store, choose the element pricing, and set discount offers so that your customers have the freedom to customize their items. Therefore, before adding a product customizer to your store, make the customizer easy to use.
Consider Demands & Queries
Customers' demands, and the products they want, are a huge factor in what personalization tactics you employ. There will be cases when you can't achieve the goals you have set for your product. Before marketing, think about what might go wrong and how to find a solution. In some cases, the end result might not be exactly like the customer thought it would. It's important to provide prompt responses to your customers and give them the support they deserve. Make sure to handle each and every customer's query, even if it seems like a small issue.
Goal to Succeed
In the cut-throat competition industry, e-store owners are now realizing that product personalization is the future. Whereas there are giants like Amazon available in the market, It is time to start a business or develop a new product that will attract customers. You must find a creative solution to your unique problem. The new world requires thinking outside the box, so start doing it. Your goal is to make a profit. That's why you want your customer to not go to the competitor's company. So, make sure you understand the market trends and update your inventory accordingly.
In 2020, many people had no control over the things around them. But while we can't stop a pandemic, we can control how we react now, and prepare for the future. So, onward to 2022 and to think about how to position your company for the expected recovery.
Now is the time to begin the transition from reactive survival tactics to pro-active recovery and growth strategies. Post-pandemic effects are still largely unknown, but success will surely go to those who are already considering business strategy changes.
Already this devastating epidemic is disrupting the entire world, but it also has some positive notes.
Shift from Offline to Online
The brick-and-mortar stores are starting to understand that they need a digital presence to keep up with the current market.
The traditional print business model is not sustainable now. If you run physical stores, it's important to have an online presence, or else you might not get customers at all.
So, it's time you set up a system that will allow people to order items online.
You can also offer customization to your customers by integrating a product designer tool in your backend. This way, you can not only keep your business running but also sales-oriented and engaging.
Localized Order Delivery
There are some countries with shipping restrictions that make it expensive to ship there. Once you create your business website, you can inform your customers that you are operating remotely to deliver local orders in the vicinity of your remote location. If you have local warehouses, you can fulfill local orders as localized shipping doesn't face stringent shipping
Then, when shipping is lifted, you expand your online business to different parts of the globe.
Custom Products (Especially T-shirts, Signages, and Photo Albums)
If it were not the COVID-19, all custom products would be in demand as usual.
Unfortunately, this is not the scenario.
A few custom products can still command a high price. A custom t-shirt for fundraising, spreading awareness, thanksgiving, inspiration, etc. can be a good source of income today.
Big hospitals, health care clinics, or local administration authorities, etc. can use custom signs to create awareness. for example, they can display these signages in public places to appeal to people to stay indoors, follow the lockdown rules, and make sure everyone is cooperating. Hospitals can help spread awareness of COVID-19 so that people won't need to fear infection as much.
Flexibility in Return and Exchange Policies
A study found that 96% of digital buyers would repeat purchases if the seller handled the returns experience appropriately. You should make it easier for customers to return or exchange their purchases and extend the period of time within which they can do so. This will engage your customers better and enhance their shopping experience, which in turn will boost your sales
Printed Personal Protective Equipment
Mask is in high demand because of its cost-effectiveness. Many companies and even individuals from this field have stepped up to mass-produce masks.
Printed Mask has become a fashion accessory after the Covid-19 outbreak.
You can provide customizable masks to your customers to increase your sales in this area.
Like to start a pint-shop business? Get a website & designer tool for Print Shop today.
In a Nutshell
Tough times require tough and smart decisions. If you face a tough decision, it's important to be objective so that you can make the best choice. The print business landscape has been changing and new trends need to be analyzed and the new opportunities will require adjustments. It is time for you to acknowledge COVID-19's influence on daily life and be prepared to deal with it with the appropriate adaptations.
When people want to feel special, brands give them personalized products. And the result of this trend is a growing number of businesses have started to give customers individualized products.
I think the trend of customized products for business got in full swing after Coca-Cola's 'Share a Coke' campaign. Consumers no longer want 'a Coke'. They want 'their Coke.'
With brands moving away from 'one-size-fits-all' approaches, consumers are expecting more personalized interactions—from companies that can identify their unique needs and experiences.
What's driving the desire for custom products?
For further information, keep on reading.
Why customized products are the best way to get customers to remember your business.
1. Individuality
Our need to express ourselves as individuals is unique. Everybody wants to be noticed and listened to. Even when consumers are shopping, what they want more than anything is to be someone who stands out and can express their individuality.
This is what makes Lego and Burger King so popular. They each embrace individuality in a way that shows they understand their customers. The Lego company believes that no matter how you play with their bricks, they will always come together to create something cool and amazing. The idea of being a brand that supports individuality is a powerful way to position yourself as a brand.
2. Unique Priorities
The purchasing power of today's consumers is on the rise. Instead of just purchasing what's on offer, they are expecting a lot more. Your customers have many and varied needs.
Your customers have different interests and needs, which means they will respond differently to your products.
They fall into different categories such as:
Price: To give people the opportunity to choose which product is a perfect fit for them, allow them to pick their budget.
Functionality: Your customers have a problem and they need your products to fully solve that problem.
3. Paradox of Choice
The phrase 'paradox of choice' comes from a marketing book and a Ted Talk by Barry Schwartz, a well-known psychology professor.
Instead of making people happy, having too many choices can cause stress for the customers.
Too many choices lead to the following potential negative effects:
Choice paralysis: When you offer more choices, shoppers have trouble deciding. This delays the decision and often leads to the shopper abandoning the site.
Buyer's Remorse: Even after making a purchase, most buyers will still worry about alternatives they did not consider.
Businesses are Opting for the Customized Product: Does it Make Sense?
We believe that one way to beat the competition is by offering more value to your customers. After all, your customers are the key to your success. You can improve customer satisfaction and make them happier by letting them experience the joy of designing a product for themselves.
They see a product or service with an added value that's intended to benefit them. Customers feel better connected when your attention is focused on them, and they are more likely to keep coming back.
These will all have a direct impact on customer satisfaction. All of these elements are very important in forming a relationship with your customer.
Summery
So if you want to impress your customers, you need to offer them products tailored especially for them. Focusing on your customers' needs will improve your relationship with them, which makes them more likely to do business with you. The more your customers find value in your products, the less likely they will go to competitors.
Start selling customized products to your customers and you'll find that more people will begin buying from you.
If you need a complete setup of an online product designer tool with a website, you may go with it here. View now
The t-shirt printing industry is growing at an exceptional rate. If we observe, we will find that 5 out of 10 have customized t-shirts with different designs and themes. No doubt, the t-shirt printing business is expected to reach $10 billion by 2025.
Looking at these stats and the craze all around, if you think of getting in the business, it's the right decision.You can easily get in on the t-shirt printing business by using a t-shirt design tool.
The following is a list of steps you should follow to reduce your confusion.
1. Create a Business Plan
Whether you are a seasoned entrepreneur or just getting started, having a business plan can be essential for helping generate the capital needed to launch your business. Oftentimes, entrepreneurs have no idea where they should start and the thought of creating capital can be overwhelming. Creating a business plan is an important step toward creating an independent and sustainable business. There are many possible applications for T-Shirts, so some simple guidelines are in place to help guide you through the process.
2. Decide a Platform
The first thing you'll need to do is decide on a platform. If you have an existing t-shirt printing business, you can use that one. If you're starting from scratch, you'll need to find a platform to upload your designs and get customers to buy. The more time you spend developing your idea, the more appealing it becomes – especially if you can provide value. But be careful: if you make promises about a platform that you can't keep, you might get disappointed.
3. Purchase an Online T-shirt Design Tool
It's time to invest. With an advanced t-shirt design tool, you'll be able to provide customized printed t-shirts for your customers. If you want to give your customers an extra touch, you can let them design their own t-shirt. As you start, you'll spend most of your budget on the product designer tool and its additional features. (It's important to figure out how much it will cost before you get started) But it will be worth it in the long run.
You can get product designer tool with complete website from us. For more detail view here.
4. Select the Printing Method and Supplier
Once you've decided which t-shirt designer software to buy, you'll need to choose how your shirts will be printed. When you're choosing your clothing select your style and run to find a supplier who will provide blank t-shirts. Invest in the right fit, not price. If you have the time and patience, find the supplier with the best quality and material.
5. Set up the Infrastructure
Finally, after you have everything else arranged, it's time to set up an infrastructure that can handle the actual manufacturing and shipping. To get the best results, it may be a good idea to have a proper printing studio equipped with printers and finishing units.For logistical purposes, you can choose to dropship or liaise with a logistics company.Choose which of these options works best for you. You'll be one step closer to the launch of your business.
6. Launch and Market
Finally, create a webpage for your store and begin selling your t-shirts. Don't let payment complications derail your customers from buying your t-shirts. You can attract new business to your t-shirt printing business through social media, paid and sponsored ads, word-of-mouth, and more.
Summary
Starting a t-shirt printing business is easy, but the market is competitive. If you don't take every step with caution, you may find ourself going out of business. Choose the right software, printing machines and t-shirts for your business.
Today, We'll share information about the importance of web-to-print software or product designer tool for print shop business, and how you'll find the best tool for your website to offer your user to customize their products online.
Find our product designer tool here.
Amazon, Snapdeal, and Flipkart have made requesting products as simple as a snap of a finger. At regular intervals, they think of better approaches for maintaining their business. Large-scale manufacturing was a piece of a few web-based business stores for a long. Also, the clients continued purchasing whatever was accessible on the web. However, at that point, they communicated their readiness to make customized items or purchase things that mirror their character. Entered Product Customization Technology and began winning the hearts of users.
As per last research, 30% of the print got online orders around the world. In the year 2017, it came to 50%. This implies, that one out of two users requested custom products online. An examination by Ernst and Young demonstrated that online purchasers in India are the same as the ones in the USA.
A couple of years before, web to print innovation was only a webpage. In any case, the idea began accepting greater ubiquity as and when eCommerce and business printing firms began searching for better income streams. Likewise, it began changing the encounters of clients by giving them the much-required personalization in the best, easy to use, and savvy way.
Advantages of Implementation Product Designer Tool
It helps to win more customers
It drives innovation
User design & personalize by own
Increase of sales
Web to the print business has created all through the long haul and there is an immense change in the way we supervise data archives of customers, it is essential to grasp, separate, and measure how the print business has benefitted from it. Through significant results, we would have the alternative to propel more and take web-to-print thoughts to the accompanying level.
How to find the best tool for your site?
As an eCommerce business owner, whether you're using Shopify, Magento, Opencart, WordPress, Or any framework or language you have built your sites, it's not easy to find the best tool all the time. You may consider plugins according to CMS for quick installation and use them.
You can find here by google search: Product Designer Tool
But, if you're understanding your customer need & looking for great features so that your users may look advanced that you have in your tool, then we recommend going with a custom tool. You'll invest one time but you'll get profit up to you're in business.